The "Haldi" program at a wedding has become an event, so naturally, wedding haldi decorations ideas have been commercialized, and many artists have started this as a business. It all started from the concept of the destination wedding of rich, richer, or richest people. Business tycoons, industrialists, and many rich people see weddings in their houses as an opportunity to showcase their wealth and status by spending lavishly right from haldi to bidaai.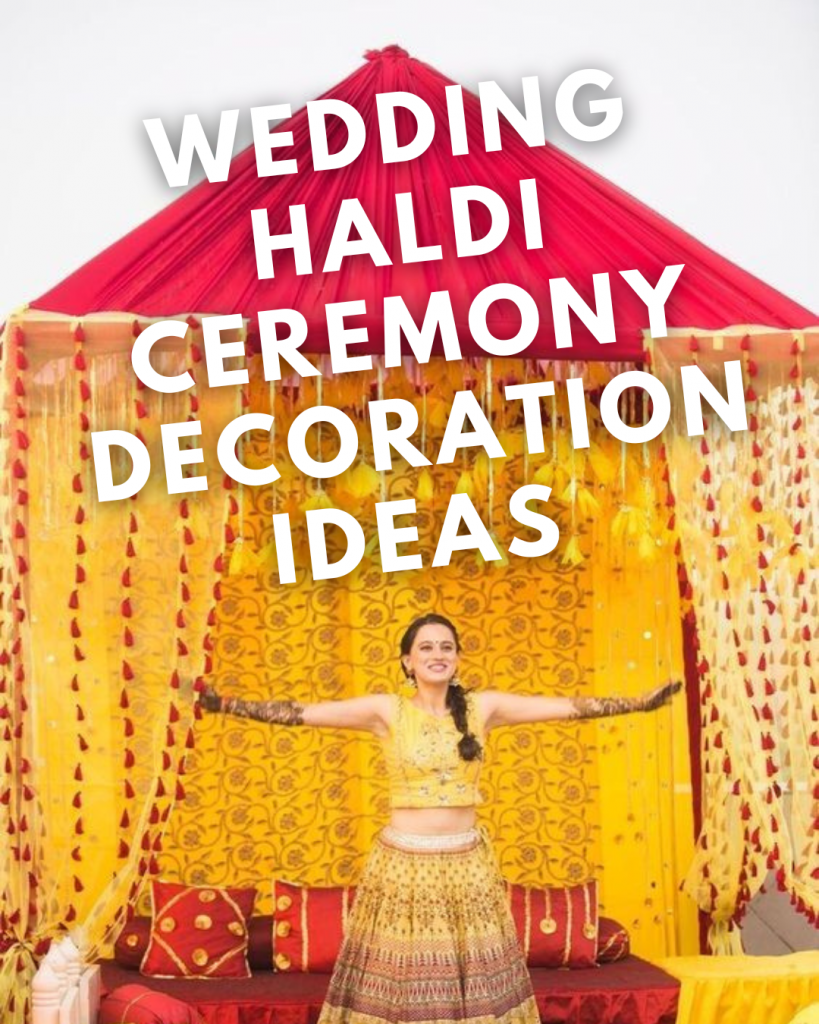 Haldi Wedding Decoration
A wedding has been a central event of life, and all rituals give a lot of enjoyment and many memorable moments. This is the only day when all relatives meet together. Let us see some wedding haldi decoration ideas
---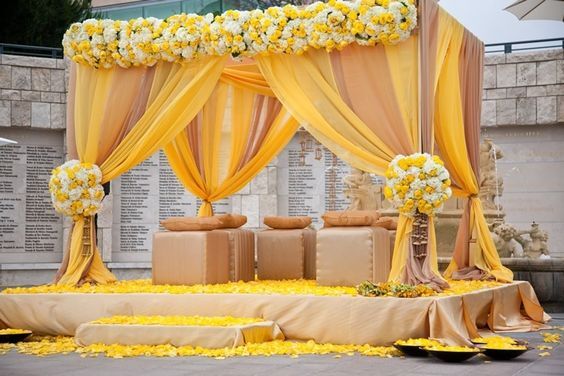 1. Haldi Mandap Decoration
Out of many designs, this design shows a great vision with flowers decorated on four pillars, and a three side open canopy is made. The backside is closed and contains a nice purple flower design which attracts one immediately. The curtain-like entry looks refreshing.
---
2. Open Haldi Decoration with Background
An open space is decorated on the top, and a wall is nicely designed with marigold flowers. The seating is designed with traditional colors, and the yellow, pink, and green covered top gives a fresh feel.
---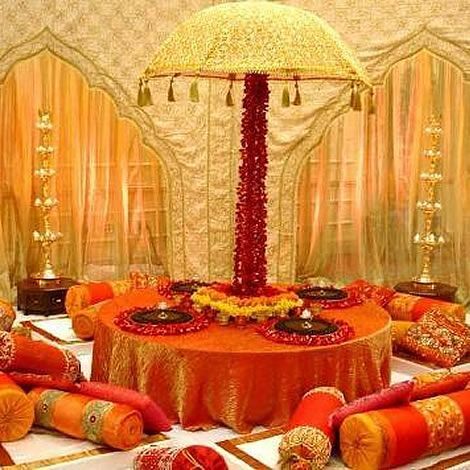 3. Inside Haldi Hall Decoration
This special round looks great, especially during nighttime. This gives a different aura to the whole look of the entry point. These haldi ceremony decoration ideas are innovative, with flowers, umbrellas, and standing diyas.
---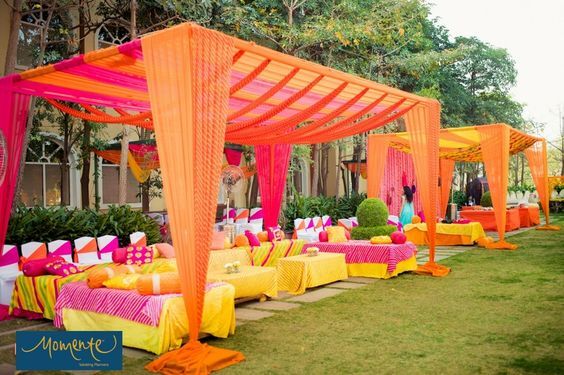 4. Garden Open Space Haldi Decoration
A simple but attractive design with two seatings and separation space. This is in the open area sitting with different colour bandhani clothes. This is an economical design and suits all classes.
---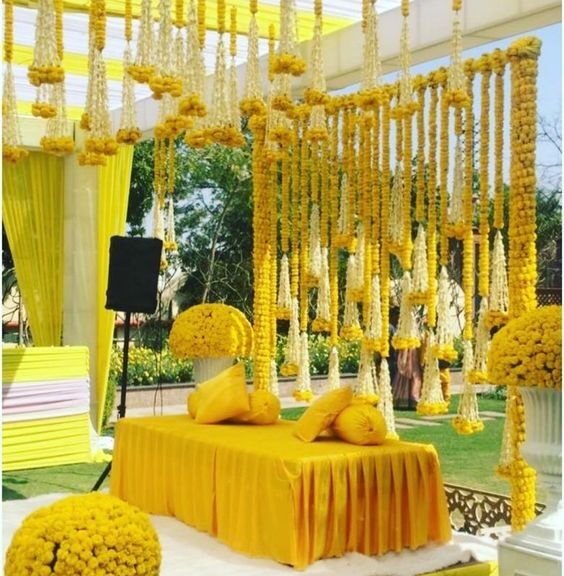 5. Terrace Decoration for Wedding Haldi Ceremony
A unique design of haldi wedding decoration that isopen from three sides. The front pillars consist of beautifully designed birds on each side. The yellow color that matches with haldi brightens the structure greatly. The floor design with yellow and red with green borders adds to the beauty.
---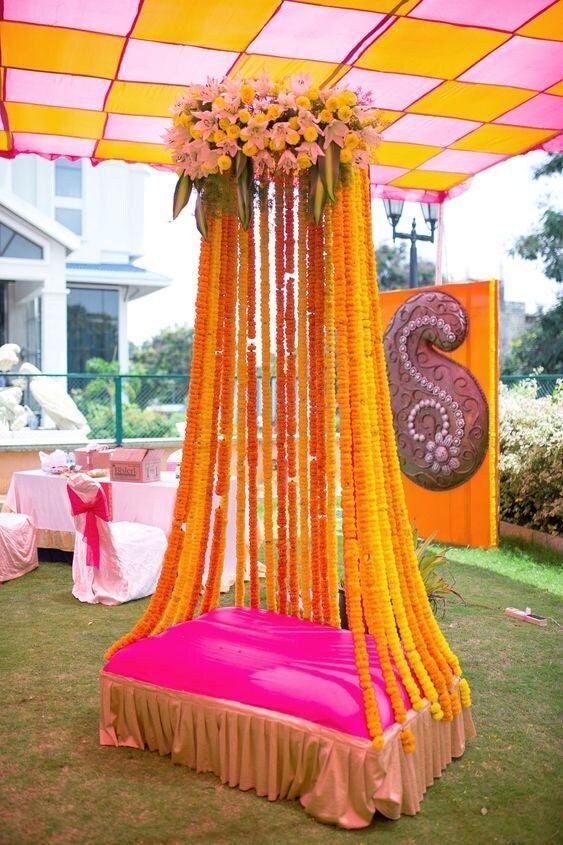 6. Haldi Decoration with Stage & Background:
This simplest design with a small platform with a raised wall is an amazing combination of colors. The net-like design of yellow and orange flowers looks ravishing and gives satisfaction to the eyes. Add the surrounding floor design laced with 'rangoli' like the design only adds value to the overall look.
---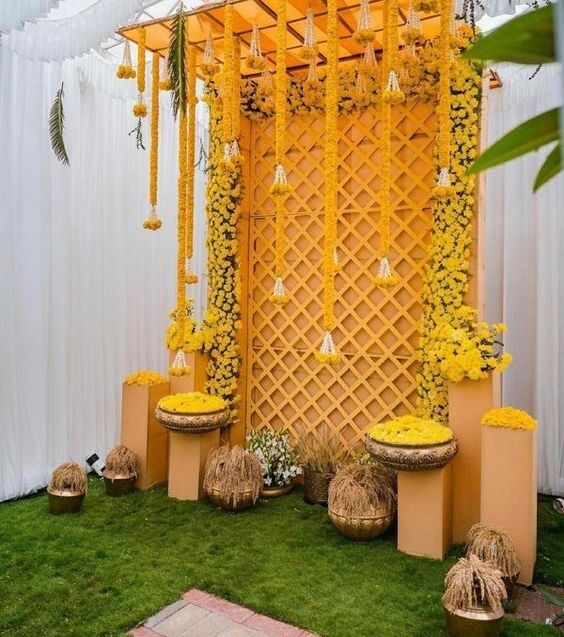 7. Theme Haldi Decoration
This innovative design with convert is full of colors, and the ride will be just great. The design with flowers at the raised backdrop matches perfectly.
---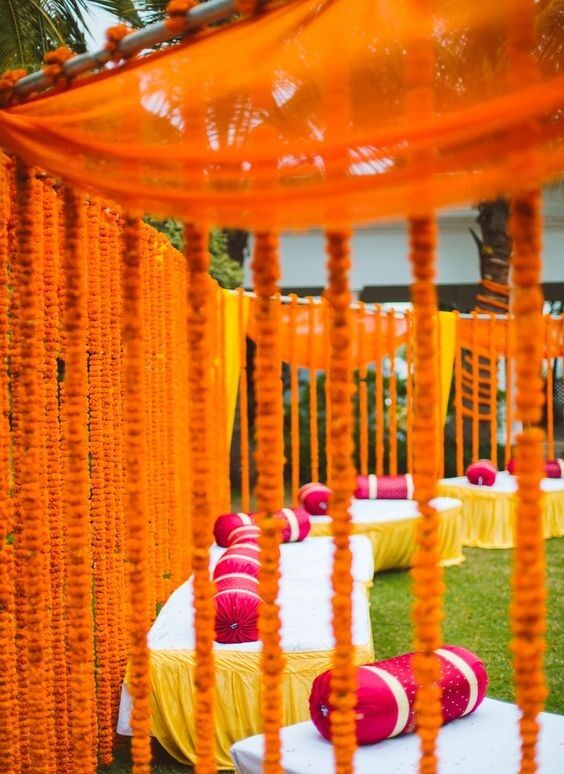 8. Background flower Haldi Decoration
An open-air design with a hanging chair looks natural, and the yellow and orange flowers laid around the floor make it a highly appreciating view. Many 'kalashs' kept available to sort out the issue of bringing it from inside frequently. There are no covered sides and carpet to be the most economical one.
---
9. Bench & Stage Setup for Haldi Decoration
The bench and stage setup looks elegant and royal. This wedding haldi decoration ooks natural, and the yellow and orange flowers laid around the floor make it a highly appreciating view.
---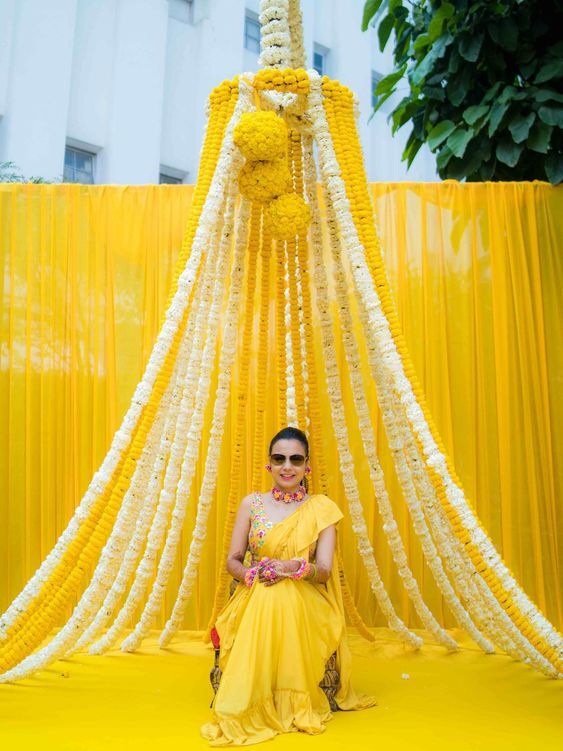 10. Simple flower decorated bride sitting decoration
This design gives a rich look to the overall haldi decoration for bride at home, and it is quite simple too. However, a white couch with an umbrella shape makes it look rich. The raised structure is full of yellow flowers, while white and red flowers complement the starred shape design.